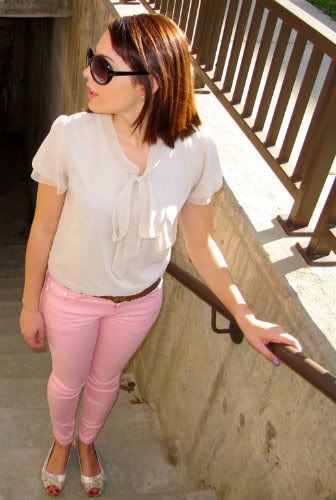 Savanna Tomei. 20. College student. Fashionista. Cheapskate. Cosmetic junkie. Journalism major. 
I'm a city girl going to university in a tiny college town. I was raised in suburban Chicago, and I love city life. Naturally, being in this tiny ass town drives me nuts. 
I'm poor. Crazy poor. As I write this, I think I have about $30 in my bank account. Like, $30 to buy food and shampoo and all those things I need. 
The second half of what created this site is that I love fashion. I love clothes, I love looking great. I personally believe that the better you look, the better you feel. I do not wear sweats outside my apartment unless I'm sick. That was a New Year's Resolution of mine last year and I've stuck to it. I plan out my outfit the night before. 
I started this blog because I feel like nobody in college really dresses. I see more sweatpants than jeans, more t-shirts than even just simple blouses. I realize a lot of that is money, but honestly, a lot of it is pure laziness. But then I sat there and thought, what if people don't know they can look great on a budget? What if they know they can, just don't know how? So I started brokecollegestyle. For the people that know they can and know how, it's just another resource to make things a little easier. 
You can send me a message through my ask box, or send me an email at brokecollegestyle@gmail.com. I check it probably once a day. I write posts in advance and have a queue, so there is always at least one piece posted every day. 
I've gotten a few supportive messages from readers, and I appreciate it so much! I want you all to know that I read your blogs, I look at my dash and look at what you're posting. I want to know what's important to you, I want to know what looks you're reblogging and would want help creating. 
This blog is a labor of love, and it's all to keep us college fashionistas in style and on budget.